This day bag has been made from 1 Belstaff Trialmaster, from the 1990's.
The jacket was on it's last legs, but now is ready for use after a brief repurposing.

As with all bags made and sold by Wax Jackets Cleaned, if cared for in a tentative manner,
this item will last many, many years!
This bag was made from quite the collaboration! The jacket we used to design and produce this particular bag is actually a Barbour / Harrods piece of work, from the 1980's. It doesn't look that old though, if we do say so ourselves.
Another rather old garment was used in the production of this bag, another from the 1980's.

This one, however, is a Burberry jacket.

Now a Burberry bag!
These two bags are made from matching jackets, intended to be "Hers and Hers".
These bags have a lot of extra padding inside their walls, boasting extra protection for your contents!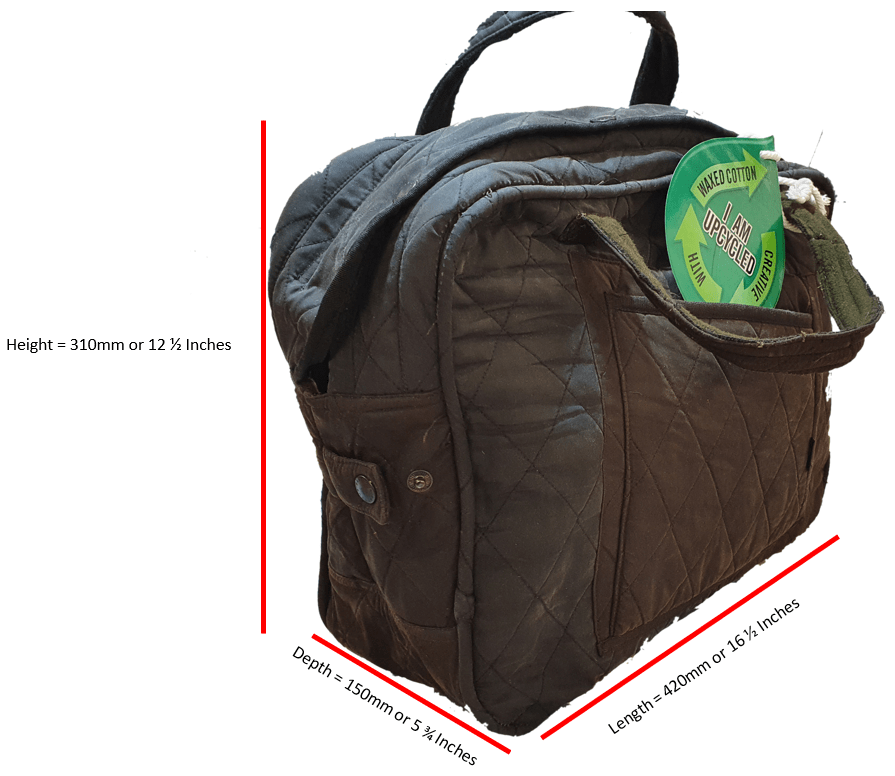 Please note that the measurements shown on this image are not absolute and should be used as a guideline. Based on a variety of factors, the finished item will be characteristically different.
If you are interested in purchasing a waxed cotton bag like this one, or you would like to supply a jacket of your own for Wax Jackets Cleaned to transform into your own one-of-a-kind bag, fill the form that is below! We will get back to you when possible.