Office, Workshop, Showroom & Delivery Address

Wax Jackets Cleaned / Wax Jackets UK Ltd.
F.A.O. Nigel Eastwood
5A / 5B Marcliffe Industrial Estate, Macclesfield Rd,
Hazel Grove, Stockport SK7 5EG. United Kingdom
Office: 0161 484 2002
Email address: waxit@waxjacketscleaned.co.uk
www.waxjacketscleaned.co.uk / www.waxjacketscleaned.com
Opening Hours: Monday to Friday: 8.30am-5.30pm (CLOSED WEEKENDS / BANK HOLIDAYS)
Please feel free to call in at our workshop / office and drop-off your WAXED GARMENT (BUT PLEASE PHONE IN ADVANCE TO CLARIFY WE ARE OPEN!). If this is what you choose to do, PLEASE FILL IN AND BRING THE OWNER SEND IN FORM WITH YOU!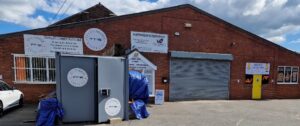 If you see this building, you are in the right place!
Cleaning, Re-Waxing & Full Restoration Service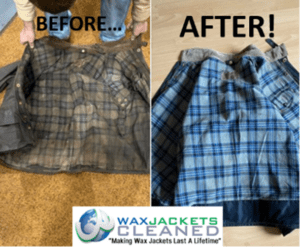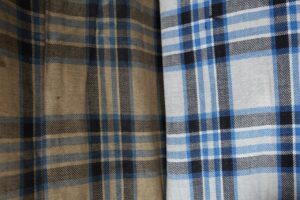 This is what can be achieved with our unique cleaning process and will remove up to 99% of any bad smells associated with wax cotton garments, 'Yes' these are the same jackets.
Care labels like the ones above can be found in all waxed jackets. This is to make it seem like they cannot be cleaned. Under normal circumstances, this is actually true!
But Wax Jackets Cleaned have the answer!
IMPORTANT INFORMATION RELATING TO THE WAX FINISHES / DRESSINGS WE HAVE TO OFFER.
MAKE SURE TO READ THIS SECTION, AS IT IS VERY IMPORTANT!
BASIC WAX FINISH (Wax 1) This is a 'BASIC' Wax dressing which has little or no sticky / oily touch finish, this just depends on the character or make of Waxed Cotton, this will give a reasonable water resistant / repellent finish……… (No Extra charge for this finish).
Silk-Oil Wax Finish (Wax 2) This finish is the most popular and does have a little sticky / Oily touch, but this will settle down after a few wears / weeks. This finish is ideal for a garment which is used for more outdoor than indoor use, this finish gives a very good water resistant / repellent finish!! This finish wax dressing is used in the original manufacture of the waxed cotton fabric (supplied by Halley Stevenson's of Dundee)…… (Extra charge of £5.00 + any % for size applies to this finish) "THIS IS THE DEFAULT WAX FINISH"
Fashion Wax Finish (Wax 3) This is a new finish introduced (Sept 22), this has been developed over a couple of years.   This finish of wax dressing is superb for people who require a waxed and darker look but don't really want any sticky or oily residue, but will still give a basic water resistant / repellent finish!!, great for the modern wax jacket that did not originally have a noticeable waxy finish….. (Extra charge of £5.00 + any % for size applies to this finish). PLEASE NOTE THIS FINISH WILL ONLY BE APPLIED AT NIGEL'S DISCRETION, AS NOT ALL JACKETS WILL "TAKE" THIS FINISH PROPERLY. IF YOUR JACKET IS NOT SUITABLE FOR THIS FINISH, WE WILL REVERT BACK TO OUR DEFAULT FINISH, THE SILK-OIL FINISH, AND YOU WILL BE CHARGED ACCORDINGLY.
Heavy Wax Finish (Wax 4) This does exactly what it suggests!! – this is a HEAVY wax dressing which is made and developed for people who want to wear their garment for outdoor use only, it does have a far more sticky and oily finish to the other finishes available, this will give as close to water-proof as is possible (No guarantees apply), (Extra charge of £10.00 + any % for size applies to this finish)
Dry Wax Finish (Wax 5) Dry wax is a new innovation in the production of wax jackets – it's dry to the touch, so it doesn't have that slightly wet feel of more traditional wax jackets. Unlike traditional waxes, dry wax is not compromised by room temperature – ensuring it's durable, water resistant, stain resistant properties. This wax dressing does and will crack-up and will leave a used / antique look, but its water-resistant properties are not compromised in any way!  Even if your garment was not originally a 'DRY WAXED' finish, most can have this applied if required (T's & C's apply) The usual way to apply is via a 'Wax Bar' which is very time consuming and can only be done by the owner of the item with no 3rd Party companies offering this service!! Here at WJC have developed a system to apply this wax in a Hot Liquid format!! No other company can or will offer the wax or service…. (Extra charge of £10.00 + any % for size applies to this finish) PLEASE NOTE THAT THIS FINISH WILL ONLY BE APPLIED TO JACKETS THAT ORIGINALLY HAD A DRY WAX FINISH IN THE FIRST PLACE. IF YOUR JACKET IS NOT A DRY WAX FINISHED JACKET, WE WILL REVERT BACK TO OUR DEFAULT FINISH, THE SILK-OIL FINISH, AND YOU WILL BE CHARGED ACCORDINGLY (£5.00 INSTEAD OF £10.00 FOR THE FINISH)
No matter which wax dressing is applied!! No guarantees whatsoever can be given towards the water repellence properties of the fabric/garment. ALL fabric changes colour when a wax dressing is applies with the fabric significantly going darker in colour and appearance and will even look darker than when the item/garment was new! ALL wax dressings can and will have a small smell of 'Paraffin'. All the wax finishes are applied by hand and are then placed in a special Hot Room for 48Hrs. so as for the dressing to soak evenly throughout the fabric, this also reduces massively the sticky surface feel!! which all other companies who offer a waxing service will get? Please note that we do not offer any recommendation on which wax to use!! we don't mind offering a little advice, but no 2 wax jackets are the same and NO guarantees are given on the final finish on feel, look, smell (dressing) or stickiness!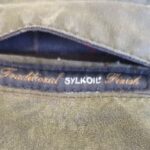 DO YOU HAVE A JACKET WITH A LABEL THAT LOOKS LIKE THIS? WHICH STIPULATES A TRADITIONAL SILK-OIL FINISH. THIS WILL BE FOUND PRIMARILY ON BARBOUR WAX COTTON GARMENTS / JACKETS.

WE CAN OFFER THE SAME FINISH AS THIS WHEN WE TAKE THE JACKET IN! IF THIS IS THE FINISH YOU WOULD LIKE, CHOOSE OPTION 2!
Cleaning & Re-Waxing Prices
1st Oct 2023 – End of 2024
We have a very strict policy on NO REPAIR ONLY / NO CLEAN ONLY / NO WAX ONLY
Clean & Re-Wax (All sizes up to & including L (large) 40" Including women's sizes up to and including 16) using WAX 1

Any jacket up to 30″ (length) £55.00

Jacket / coat above 31″ (length) £63.00

Long Coat / Riding Coat / Stockman Coat £68.00

(Up to L / 34″ waist ) Trousers £50.00 (36″ waist and above +10%)

Gilet £45.00 Hat £20.00

Extras: Belt £3.75 – Hood £6.00

1/2 (half) Shoulder Guard / Neck Cover £5.00 + any % for Size.

Full Shoulder Guard / Neck Cover £7.50 + any % for Size.

Extra Charges: – XL 42/44" + 10% 2XL 46/48" + 15% 3XL + 20%
Excessive / Very Dirty Jackets or Trousers Plus removal of Excessive Wax (Extra £8.00 per item will be charged)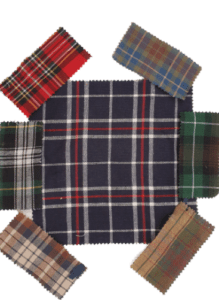 Have an inner lining like the ones here? We are now able to reline your favourite vintage Barbour waxed jacket! But don't worry, we are able to do reline other manufactures jackets too! We have now sourced the blue and green tartan fabrics, which is common in early Barbour's.
Return Postal & Packaging Costs
Postal & Packing Charges for Parcelforce 24hr (next weekday)

Mainland England: £10.00

Highlands & Islands: £14.00

Isle of Man, Northern Ireland and Republic of Ireland £15.00

International Price on application
If you happen to be sending in multiple garments at once, perhaps consider the Parcelforce shipping we offer.

This service allows you to send multiple items in to us at your leisure, as you can drop off the parcel at your local Post Office.
To use this service, you must:

Have access to a printer

Be able to drop your package off at any Post Office

Using this will save you money on sending! We use Parcelforce for returns at no extra cost, and it's fully tracked.
From only £10 from most of the UK (subject to Terms & Conditions)! If you are unsure about what "zone" you reside in, go to Google and search for ParcelForce Zones UK to find a breakdown of regions by area.
PLEASE INFORM US OF YOUR RETURN ADDRESS. WE HAVE MANY ITEMS SENT TO US WITH NO INFORMATION WHATSOEVER, THEREFORE WE HAVE NO UNDERSTANDING AS TO WHERE THE JACKET HAS CAME FROM. IT IS IMPERATIVE THAT CONTACT INFORMATION IS INCLUDED!!!
Please send your Garments via a signed – for service. (Royal Mail Signed for service is ample)

We must be able to sign for the Garment/s at our shop. (No signature!! NO proof of Delivery)

We can't be responsible for garments lost in post.
IMPORTANT INFORMATION:
We cannot and will not guarantee that all stains will be removed. There are limitations with the gentle cleaning process we use but we endeavour to achieve the best result possible without damaging the garment. It will be clean and most importantly 'FULLY WEARABLE' again.

We carry out a full and comprehensive repair, alteration and modification service to all Wax Cotton Garments.

PLEASE NOTE: we DO NOT give estimates or quotations over the telephone, we only quote once we have seen the garment, if you would like to send some pictures, we can hopefully give a rough estimate for the works, please email us @ waxit@waxjacketscleaned.co.uk

We DO NOT Guarantee that your Jacket or Trousers WILL BE 100% Waterproof. But please stipulate how you will use the jacket as we will then endeavour to get as close as possible. NO 'NEW' WAXED COTTON IS GUARANTEED 100% WATERPROOF
To reduce your potential postal costs, make your parcel as small as possible. Some garments can and will change colour slightly and some dramatically. Wax dressing is a Neutral colour and have no dyes, special finishes on modern Wax Cotton Garments can never be replicated.

Wax Jackets are an outdoor item of clothing, after the Cleaning & Re-waxing it is advisable NOT to wear indoors and in Motor Vehicles as the wax dressing will transfer on to other fabrics and surfaces.

After the process, some will have a stickier finish than others (please see Info-Sheet for details) this will settle down after a short time of wearing. Your item will 'NOT' come back NEW it will be returned Cleaned and Professionally Re-Waxed by hand. Cleaned means we will get it as clean as possible, it is a gentle cleaning process so there are limitations, in 95% of cases we get them perfectly clean, some stains may still be visible!

The garment will be clean and more importantly fully wearable. We do not take any responsibility for items that go missing when in transit to and from our premises, this is the courier's responsibility.
CHECK ALL POCKETS BEFORE SENDING
In sending your garment/s for Cleaning / Repair / Alteration & Re-waxing, you are giving authority for Wax Jackets Cleaned to complete the necessary works and agree to all WJC Terms & Conditions